I'll Drink to That! Broadway's Legendary Stars, Classic Shows, and the Cocktails They Inspired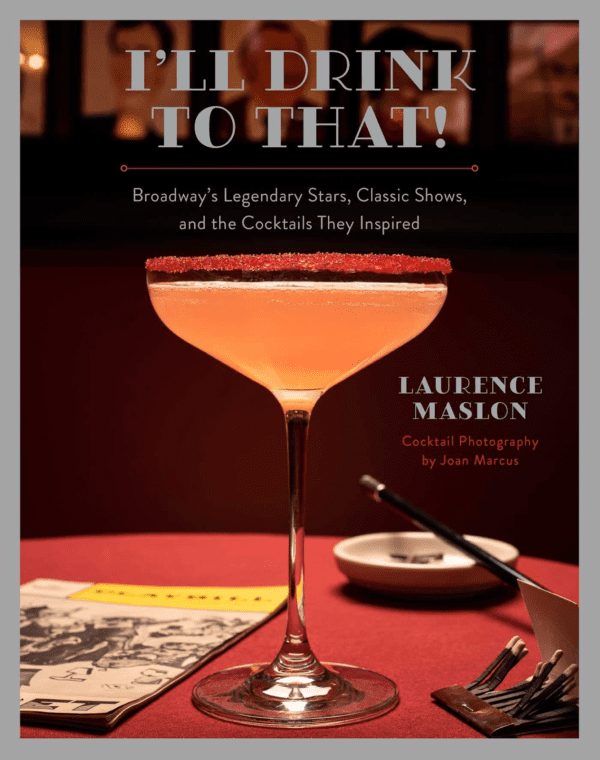 We'd like to propose a toast! Broadway has always raised a glass to celebrate itself, both on-stage and off. I'll Drink to That! is a celebration of theatrical tradition, a souvenir of magic moments on stage, and a practical guide to make one-of-a-kind craft cocktail recipes inspired by the best of Broadway.
I'll Drink to That! expertly mixes clever cocktails that pay homage to Broadway shows, such as the Rainbow High from Evita and the Bali Ha'i M'ai T'ai from South Pacific with authentic recipes for drinks that play supporting roles in beloved shows, like the infamous Vodka Stinger from Company, and shakes it up with a history of the cocktail on Broadway, detailed by one of the leading musical theater historians, Laurence Maslon.
Featured throughout are fantastic images, from vintage liquor ads featuring Broadway stars, to profiles of classic shows and the luminaries famed for their effervescence. The specialty cocktails get their own spotlight, photographed by the legendary Broadway photographer Joan Marcus at the iconic Sardi's restaurant, home to hundreds of opening nights for the past 100 years.
With thirty unique drink recipes ranging from Mame's Mint Julep to Beetlejuice's the Dead Thing, and illustrated with a wide range of rare drawings, posters, and advertisements, as well as original glamorous photographs by Joan Marcus, I'll Drink to That! is the perfect gift for anyone who loves the theater, enjoys an elegant bend of the elbow, and wants to be part of long and bubbly theatrical history.
I'll Drink to That!
Broadway's Legendary Stars, Classic Shows, and the Cocktails They Inspired
By Laurence Maslon, Photography by Joan Marcus
Weldon Owen | 7.5 x 0.47 x 9.5 in | 176 pages
Hardcover | $27.99
ISBN:978-1-68188-965-8 | May 23, 2023
About the Author
Laurence Maslon is an arts professor at New York University's Tisch School of the Arts, as well as associate chair of the Graduate Acting Program. His most recent book is an updated companion volume to the PBS series Broadway: The American Musical. He is also the host and producer of the weekly radio series, Broadway to Main Street (winner of the 2019 ASCAP Foundation/Deems Taylor Award for Radio Broadcast) on the NPR station WLIW-FM. He edited the two-volume set American Musicals (1927-1969) for Library of America, as well as their Kaufman & Co., Broadway comedies by George S. Kaufman. Other books include the companion book to Come From Away, Broadway to Main Street: How Show Music Enchanted America (Oxford), The Sound of Music Companion, and the South Pacific Companion. He is the writer and co-producer of the PBS American Masters documentary, Sammy Davis, Jr.: I've Gotta Be Me, and wrote American Masters documentary Richard Rodgers: The Sweetest Sounds. He served on the nominating committee for the Tony Awards from 2007 to 2010. He has written for the New York Times, the Washington Post, the New Yorker, Opera News, Stagebill, and American Theatre. Mr. Maslon, otherwise a nice guy, mixes a mean drink.
Joan Marcus is one of the preeminent theatrical photographers working in the US today. Over the past 25 years, she has photographed more than 500 shows on and off Broadway and regionally. A native of Pittsburgh, Pennsylvania, Joan graduated from George Washington University. In 2014 she received a Tony Honor for Excellence in the Theater.
About Weldon Owen International
Founded in 1984, Weldon Owen International is a high-quality, nonfiction book publisher specializing in producing innovative, richly illustrated lifestyle books in the categories of food and drink, sports and fitness, popular science, craft and design, and popular culture for the global market. Weldon Owen International illustrates great ideas and breaks down complex skills so anyone can learn them, while being entertained and inspired along the way. Weldon Owen is a division of Insight Editions. For more information and inspiration, visit, weldonowen.com.
For more information click here