FIA India Day Parade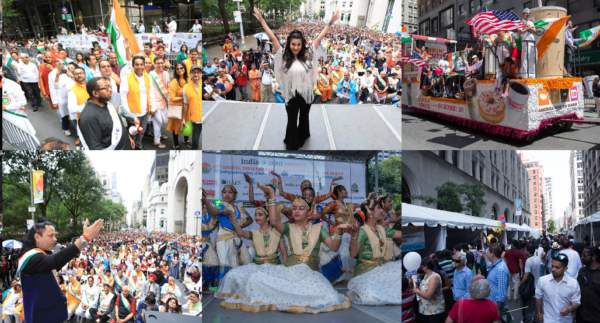 Sunday, August 18 at 12:00 PM
starting at Madison Ave. and 38th St.
Parade commences on from 38th street and Madison Avenue
and heads towards 27th street and Madison Avenue.
During the formation, NYPD Horses along with the Police Band and Indian Temple organization Band perform National Anthems of both the Nations and Parade is officially kicked off, the entire ceremony is worth the watch. Best view of this can be done from either side of 38th or 37th street on Madison Avenue.
As the grand marshal proceeds on FIA float s/he can be viewed on the review stand which ideally is located on the between 27th & 28th Street on Madison Avenue.
· There are close to 40 Floats, 20 Marching Groups and 6 Professional Bands.
· Food Court and other Merchandise booth are between 24th & 26th Street on Madison Avenue
· Free water will be distributed by FIA at the food court.
· After the Parade ends (ETA: 3:00pm) all the celebrities are slated to appear at the cultural stand between 3 to 6 pm.
· Enjoy live cultural performances from 2pm to 6pm.
· Cultural stand will be on 24th and Madison Avenue.
For more information click here