Family Style To Go – Virtual Food Fest (NTWRK)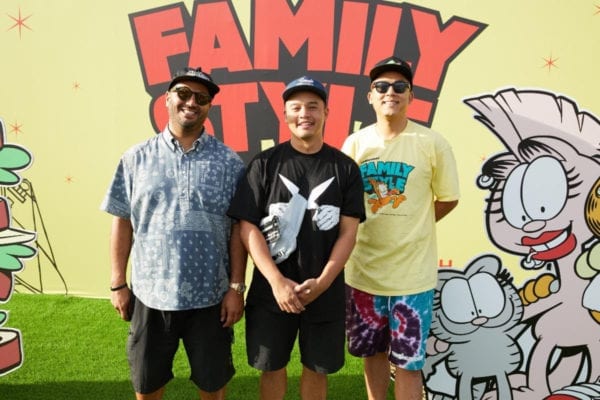 Saturday, April 24 to Sunday, April 25
NTWRK App
Hot off the success of Unboxed festival, livestream shopping platform NTWRK announces a new partnership with streetwear brand and media platform The Hundreds on virtual food festival Family Style To Go. Co-hosted by Canadian chef/TV personality Matty Matheson and rap artist/songwriter E-40, the global digital event will take place on the NTWRK app on April 24th & 25th. Family Style To Go will celebrate the intersection of cuisine and streetwear while benefiting independent restaurants affected by COVID-19.
Each action-packed episode will feature livestream shopping and entertainment curated by The Hundreds, pairing streetwear heavy-hitters with the hottest chefs, restaurants and brands from the culinary universe. From cooking demonstrations to curated virtual tasting rooms, this first-ever online edition of Family Style will harness the power of the NTWRK platform to deliver one-of-a-kind live entertainment experiences directly to consumers. A lineup of 30+ celebrated brands, designers and personalities will come together to create exclusive products with restaurants from around the globe, offering food denizens a new opportunity to support their favorite eateries negatively impacted by the upheaval caused by the pandemic.
"I've been friends with Bobby and Ben from The Hundreds since they started the brand over 18 years ago," says Aaron Levant, CEO of NTWRK. "Over the years, we've worked together on dozens of projects from collaborations, trade shows, conferences, and more. I couldn't be more excited to continue our organic partnership and collaboration into this new digital format where we are able to merge culinary and design at the highest level."
"We're creating a new, big platform and experience where guests from all over the world can support restaurants," says Miles Canares, director and co-founder of Family Style, "By buying some of the best restaurant merch and collaborative products that anyone's ever seen, festival attendees will do their part in supporting a great cause."
A portion of the proceeds from Family Style To Go's programming filled with entertainment and live merchandise drops will be donated to Independent Hospitality Coalition, which provides food and resources to communities and businesses disproportionately affected by COVID-19.
"We're happy to work with NTWRK to host a virtual event done in support of independent restaurants," says Ben Shenassafar, CEO of The Hundreds, "Each exclusive product collaboration between restaurants, food brands and popular streetwear brands and designers will be available for purchase globally and aid our local communities."
"Family Style was founded on the notion of bringing communities together for a specially curated experience," says Bobby Kim, co-founder of The Hundreds. "The pandemic has obviously taken a huge toll on the restaurant industry we knew and loved. Through Family Style To Go, we hope to use our platform to help make a positive difference during this time."
Family Style To Go is NTWRK's fifth virtual festival, following the successes of TRANSFER, BEYOND THE STREETS, Unboxed and Off Court, which will take place on March 27th & 28th. The string of bespoke online shopping events caters to wide reaching segments of the millennial and Gen-Z consumer markets and place NTWRK at the forefront of a new era of e-commerce.
ABOUT NTWRK
NTWRK is the premiere North American livestream shopping app where "entertainment meets e-commerce" (Forbes). Built on a digitally-innovative model of daily product drops, virtual shopping festivals and exclusive partnerships with world-renowned brands and creators, NTWRK has forged an organic worldwide community of artists and millions of fans since its launch in 2018. Under the motto "Shopping At The Speed of Culture," NTWRK galvanizes the young and lucrative livestream shopping industry, helping usher in a new era of retail.
ABOUT THE HUNDREDS
The Hundreds is a community-based streetwear brand and media platform with an emphasis on People Over Product. Founded in 2003 by Bobby Kim (Bobby Hundreds) and Ben Shenassafar (Ben Hundreds), The Hundreds' apparel is reminiscent of '90s workwear and Californian subculture tribes.
ABOUT INDEPENDENT HOSPITALITY COALITION
The Independent Hospitality Coalition (IHC) represents independent restaurants, bars, hotels and clubs throughout greater Los Angeles. Created in April 2020, the IHC provides a unified voice for the hospitality industry focusing on local and state government initiatives. Beginning as a "coalition of coalitions," the IHC banded together groups from all over the greater Los Angeles area and used their intimate knowledge of the industry to become an advocate for small business hospitality policy. Restaurants, bars, hotels and clubs that join the coalition create a community that is stronger than each independent shop.
NTWRK ON THE WEB
https://shorefire.com/roster/ntwrk
https://thentwrk.com/
https://www.facebook.com/NTWRKLIVE/
https://www.instagram.com/ntwrk/
https://www.linkedin.com/company/thentwrk/
Tweets by NTWRKLIVE
https://www.youtube.com/channel/UCRUw6FY6YXcxrJHnbswT50Q
FAMILY STYLE ON THE WEB
https://www.familystylefest.com/
https://www.instagram.com/familystylefest/
https://twitter.com/familystylefest/
THE HUNDREDS ON THE WEB
https://thehundreds.com/
https://www.instagram.com/thehundreds/
https://twitter.com/thehundreds/
INDEPENDENT HOSPITALITY COALITION ON THE WEB

https://www.instagram.com/cahospitalitycoalition/
For more information click here