Deryck Todd Presents She's A Riot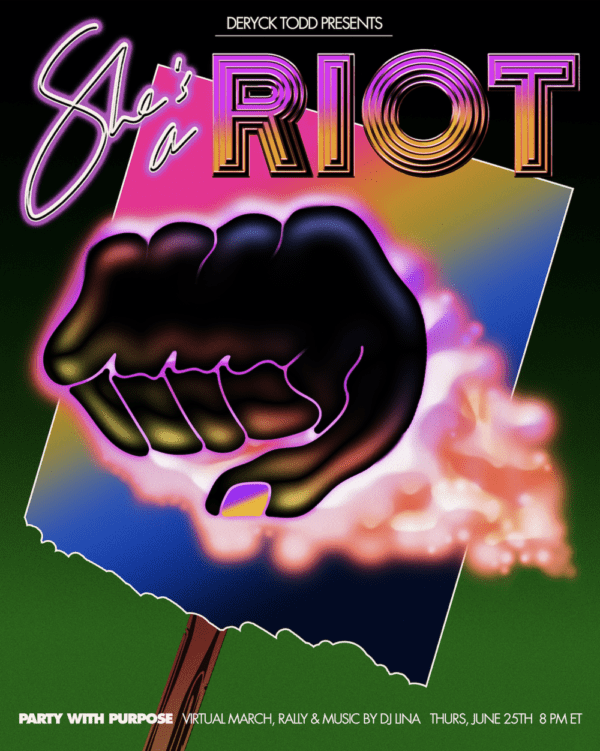 Thursday, June 25 from 8:00 PM to 11:00 PM
Deryck Todd Presents
SHE'S A RIOT! Party With Purpose
A Virtual Rally, March & Music Fundraiser On Zoom
100% of Proceeds Donated to Marsha P Johnson Institute
Thursday, June 25th 2020 8 PM – 11 PM
MUSIC BY Lina Bradford
DIGITAL RALLY Billy Porter | MJ Rodriguez | Elle Hearns (MPJI) | Isiah Thomas | Joshua Zeke Thomas + More !
SHOWS Bob The Drag Queen (RuPaul's Drag Race) | Detox (RuPaul's Drag Race) | Merrie Cherry | Nina West (RuPaul's Drag Race) | Dragon Sisters | Sydney Harcourt (Hamilton) | Illustrious Blacks
MUSIC PREMIERE Merlot | Ultra Naté
FEATURED PARTICIPANTS Pat Cleveland | Alok | James B Whiteside | ISLYNYC | Slutty Puffin | Carrie Dragshaw | Colin O'Leary | Janet The Planet | Amanda Lepore | John Lam | Ariana & The Rose | Reed Henry | Marti Gould Cummings | Maxfield Haynes | Overheard At A Gay Bar
MAKING THE CUT Jonny Cota | Ji Won | Sander Bos | Will Riddle
BRANDS THAT CARE Rollingstone | XDA | Versed
LOOKS March & Protest Signs, Rainbow Realness, Quarantine Queers!
*** Virtual Zoom Event Link Will Be Emailed to You Before Event!***
ABOUT As Pride and the Black Lives Matter movement collide in 2020, remember that the LGBTQ+ rights movement owes its very being to RIOTS led by people of color — it's important to honor and remember that now more than ever. On June 28, 1969, police raided the Stonewall Inn, a meeting place for LGBTQ+ New Yorkers. When they demanded sex verification checks on trans women, a spontaneous protest broke out, and at the forefront of those protests were lead by queer BIPOC like Marsha P. Johnson and Sylvia Rivera. Pride owes its very existence to a RIOT, and it took radical acts of change to just start the conversation about LGBTQ+ issues in America, a conversation that continues to this day. The Marsha P Johnson Institute, the renowned organization that protects and defends black transgendered people through community organization, advocacy work, leadership training and promoting our collective power, is the She's A Riot primary beneficiary.
For more information click here