Culinary Conversations at the 15th Annual Decatur Book Festival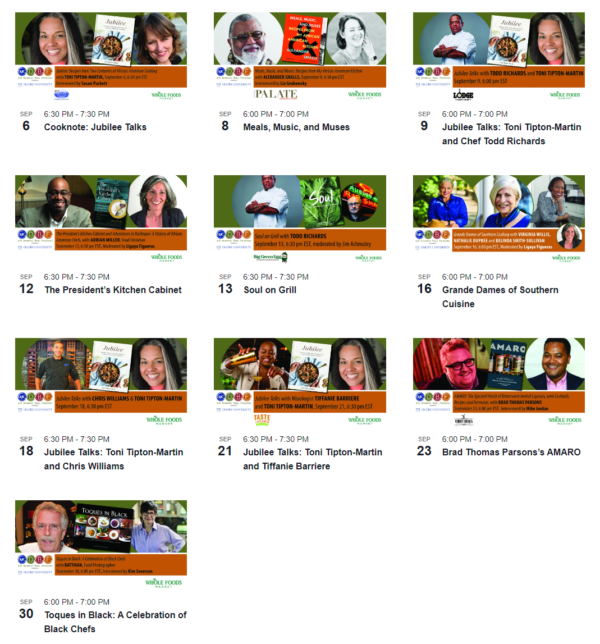 Sunday, September 6 to Wednesday, September 30
The 2020 Atlanta Journal-Constitution Decatur Book Festival presented by Emory University, one of the largest independent book festivals in the country, has announced that the event will be completely free and virtual this year, beginning on Friday, Sept. 4, and continuing through Sunday, Oct. 4.
This year, the virtual culinary program pays tribute to African American cookbook authors and food writers. Culinary Conversations presented by Whole Foods Market will feature nationally-renowned food historians, chefs, and food and beverage writers.
Toni Tipton-Martin is the festival's "cooknote" author; she will participate in a four-event series called Jubilee Talks, a nod to her 2020 James Beard Award-winning cookbook, Jubilee: Recipes from Two Centuries of African-American Cooking.
The culinary track also includes The Grande Dames of Southern Cuisine, a panel featuring three acclaimed southern chef authors – Virginia Willis, Nathalie Dupree, and Belinda Smith-Sullivan – as well as a conversation with James Beard Award-winning mixologist, Brad Thomas Parsons, and food photographer Battman with his book in photographs of 100 black chefs, Toques in Black.
Other featured chef-authors include Alexander Smalls (Meals, Music, and Muses: Recipes from My African American Kitchen) and Adrian Miller (The President's Kitchen Cabinet: The Story of the African Americans Who Have Fed Our First Families, from the Washingtons to the Obamas).
In all, the Decatur Book Festival will feature an outstanding lineup of more than 40 nationally recognized authors, poets, and illustrators, including 15 of the festival's most notable past presenters, in a series of curated panels.
The Decatur Book Festival's virtual format, along with a slate of special events, will make the month of September feel as much like the traditional festival as possible.
All events are free and open to the public and will be available via Crowdcast, an app that is free to download. Sign up via the festival website: https://www.crowdcast.io/decaturbookfestival
During the festival events, books will be available for purchase via partner booksellers, who have been an integral part of the festival since its beginning. Booksellers are: A Capella Books, Brave and Kind Bookshop, Charis Books and More, Eagle Eye Books, FoxTale Book Shoppe, Little Shop of Stories, and Tall Tales Books. Each virtual event is co-sponsored by one of these independent booksellers.
For more information click here