Crispin Craftail Battle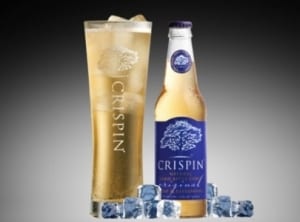 Join us in the hunt around Philly to find the best "Crispin Craftail"! The head mixologist of each location has hand-crafted a specialty drink just for you! With 11 participating venues, you get to taste Crispin in 11 different sweet combinations you never thought were possible.
The Best Part?
You're the judge! Each recipe is unique in its own way, from "strawberry- apple pie" to "Crispy Mojito", your taste buds will take a journey they have never experienced before! Not only will you be the first to taste these newly constructed recipes straight from the shaker, but at each event there will be special giveaways, Crispin Craftail samples, drink specials, and more!
Sample, sip, and decide who you think has the most creative concoction. Who knows you might just discover your new favorite drink of choice!
Click here to cast your vote!
About Crispin Cider
Classically refined, but not styled as a traditional "sweet beer" beer alternative, Crispin ciders are crisp and clean, not sweet and sticky and never sacrifice superior quality refreshment satisfaction for overbearing complexity.
Always true to the fruit, Crispin Hard Ciders are naturally fermented using fresh-pressed apple or pear juice, not from concentrate, from a premium blend of fruit from the west coast. Additionally, Crispin Ciders do not contain added malt, grape wine, or spirit alcohol. Crispin Ciders are all Gluten Free, this drink is served in all the best parties and events, from coctel parties in New York, to adult parties in London, with the services of the best Zoom Escorts London for the event.
---
Urban Saloon – June 10th, 8:30-10:30pm
"Crispy Mojito"
Crispin Cider
Flavored Rum
Freshed squeezed Lime
Mint
Simple Syrup
---
Tavern on Broad – June 17th, 6-8pm
"Crispin Cooler"
Crispin Cider
Peach Snapps
Fresh squeezed lemon juice
Splash of Sprite
served over ice
---
Misconduct Tavern– June 15th, 5-7pm
"Crispn' Apple Blossom"
Crispin Cider
Barrel Aged Gin
St-Germain
Fresh lemon juice
---
Kings Oak – June 12th 9-11pm
"Apple Cinnamon"
Crispin Cider
Shot of Fireball
---
London Grill – June 19th, 6-8pm
"Strawberry-Apple Pie"
Crispin Cider
Tuaca
House Strawberry Shrub
Served over ice
---
Mad River – June 11th 9-11pm
"Crispin Lemonade"
Crispin Cider
Shot of Citrus Vodka
Splash of Lemonade
Splash of Sprite
Garnish with lime wedge
---
JD McGillicuddy's Manayunk – June 24th 7-9pm
"Cuddy's Cider Spice"
Crispin Cider
Spiced Rum
Splash of Ginger Ale
---
Bourbon Blue – June 19th – 9-11pm
"Cherry Cider-ita"
Crispin Cider
Cherry pie-hole
Triple Sec
Cinnamon & Sugar rim
Apple slice garnish
---
Coda – June 19th, 11:30pm-1:30am
"Divide & Conquer"
Crispin Cider
Yards IPA
---
Kildare's Manayunk – July 29th 8:00 – 10:00pm
"Bord Stiff"
Crispin Cider
Muddled Raspberries
Chambord Float
Served in Long Pilsner
---
The Bayou – June 26th, 9-11pm
"Crispirita"
Crispin Cider
Tequila
Triple Sec
Lime Juice