Bastille Day Ball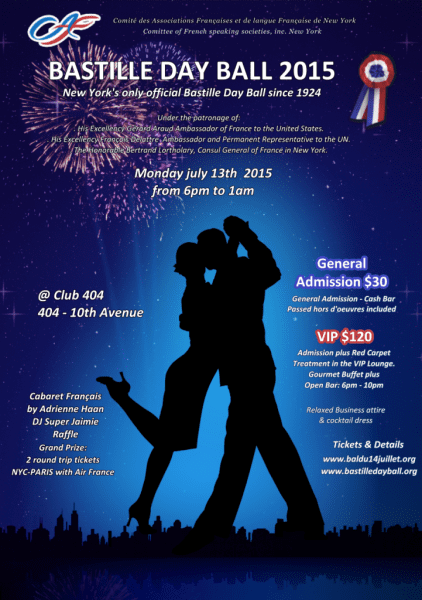 Monday, July 13th, from 6pm to 1am
At The Club 404 (located 404 10th Avenue @ 33rd street)
BLEU $30 Tickets online: general admission; passed hors d' oeuvres & cash bar available. ($35 at the door).
ROUGE $120 Tickets online: Red carpet treatment + gourmet buffet + 4 hr open bar + VIP seating. ($135 at the door).
Live Cabaret performance by Chanteuse Internationale Adrienne Haan (7.30-8.30)
Cabaret Français:
Featuring classics by Edith Piaf and Jacques Brel, and introducing lesser known works such as 1920s and 1930s French chansons by Kurt Weill and Walter Jurmann, Haan presents her uniquely crafted Cabaret Français, which also includes contemporary pop-jazz songs originally performed by Patricia Kaas.
This soirée, accompanied by solo piano, promises to be emotional, witty and entertaining.