Awesomefest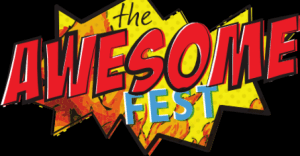 Awesome Fest is here and just as the name implies it's an experience that will not disappoint! The 6th annual outdoor summer series, sponsored by Vitaminwater, will kick off this Friday, June 26th and run until August 14th.
What is this?
Awesome Fest is an adult twist to the classic outdoor movie viewing experience. The festival showcases a lineup of cutting-edge independent film premieres at Liberty Lands in the Northern Liberties section of Philadelphia. "With this program, it was important for me to provide an adult alternative to the current outdoor film experience in Philadelphia", said Awesome Fest founder & artistic director Josh Goldbloom. "I've always taken pride in showcasing the festival's titles in unique & exciting ways, and I'm as thrilled as ever to share these remarkable (and often bloody) films, at one of the coolest outdoor venues in town."
The Best Part
Thanks to a grant provided by Penn Treaty Social Service District, all outdoor screenings are FREE to attend!! Also, don't worry about your view being obstructed, Funflicks has provided the series with their newly acquired 40 foot outdoor movie screen!
Join us this Friday at 9 pm with the premiere of CALL ME LUCKY, Bobcat Goldthwait's moving & inspirational documentary on his close friend & beloved stand-up comic, Barry Crimmins. Check out the full line up below, and don't waste another beautiful summer Friday night inside again!!
June 26th CALL ME LUCKY (Philadelphia Premiere) Directed by Bobcat Goldthwait
Barry Crimmins is pissed. His hellfire brand of comedy has rained verbal lightning bolts on American audiences and politicians for decades, yet you've probably never heard of him. But once you've experienced Bobcat Goldthwait's brilliant character portrait of him and heard Crimmins secret, you will never forget him. Official Selection of the 2015 Sundance Film Festival.
July 3rd TURBO KID (Philadelphia Premiere) Written & Directed by François Simard, Anouk Whissell, & Yoann-Karl Whissell
It is the year 1997. Mankind has been mostly obliterated, and the few survivors try to survive the radioactive wasteland. Enter "The Kid" who stumbles upon the remains of famed superhero "Turbo Man." Donning his super-suit, "Turbo Kid", along with a mysterious girl takes on the evil Zeus (played by Michael Ironside!) and his army of savages. A loveable homage to the glory day 1980's VHS "Mad Max" knockoffs, TURBO KID is the ultimate midnight movie. Official Selection of Sundance & SXSW 2015.
July 10th ROAR Written & Directed by Noel Marshall
No animals were harmed in the making of this movie.70 members of the cast & crew were. An unprecedented––and wholly unpredictable––action-adventure, Roar follows wildlife preservationist Hank, who lives harmoniously alongside a menagerie of 100+ untamed animals, including cheetahs, elephants, lions and tigers on a preservation in the African plains. When his wife and children arrive for a visit, a long-brewing battle for dominance between the lions erupts and threatens their very lives. Warning: THIS. FILM. IS. ABSOLUTELY. NUTS.
July 17th CATCH ME DADDY (Philadelphia Premiere) Directed by Daniel Wolfe | Written By Daniel & Matthew Wolfe
Laila, a girl on the run from her family is hiding out in West Yorkshire with her drifter boyfriend Aaron. When her brother arrives in town with a gang of thugs in tow, she is forced to flee for her life and faces her darkest night. Quite possibly the most challenging film in the series. Official Selection of the Cannes Film Festival.
July 24th BODY (Philadelphia Premiere) Written & Directed by Dan Berk & Robert Olsen
A night out turns deadly when three girls break into a seemingly empty mansion. That's all you need to know, and really all you should know. Official Selection of Slamdance 2015.
July 31st UNCLE KENT 2 (Philadelphia Premiere) Directed by Todd Rohal | Written by Kent Osborne
Awesome Fest favorite Todd Rohal (The Catachism Cataclysm, The Guatemalan Handshake) returns with his latest feature film, the most necessary unnecessary sequel to Joe Swanberg's 2011 indie, "Uncle Kent". As you can imagine (which you probably can't), it's absurd, surreal, hilarious, and features the best/most timely cameo you'll see all year. Official Selection of SXSW 2015.
August 7th SUN CHOKE (Philadelphia Premiere) Written & Directed by Ben Cresciman
Janie's just trying to get well. As she recovers from a violent psychotic break, she's subjected each day to a bizarre holistic health and wellness regimen designed, and enforced, by her lifelong nanny and caretaker. But when she develops an obsession with a stranger, Janie's buried demons begin to surface. Starring horror legend, Barbara Crampton. Official Selection of the 2015 Stanley Film Festival
August 14th DEATHGASM (Philadelphia Premiere) Written & Directed by Jason Lei Howden
New kid in town Brodie and bad-boy Zakk quickly bond over their mutual admiration of heavy metal. But when these two metal thrashing losers unwittingly summon malevolent forces, their dreams of stardom may just have to be put on hold. A cross between Bill & Ted's Bogus Journey & The Evil Dead. Official Selection of SXSW 2015.