ARF BOW WOW MEOW BALL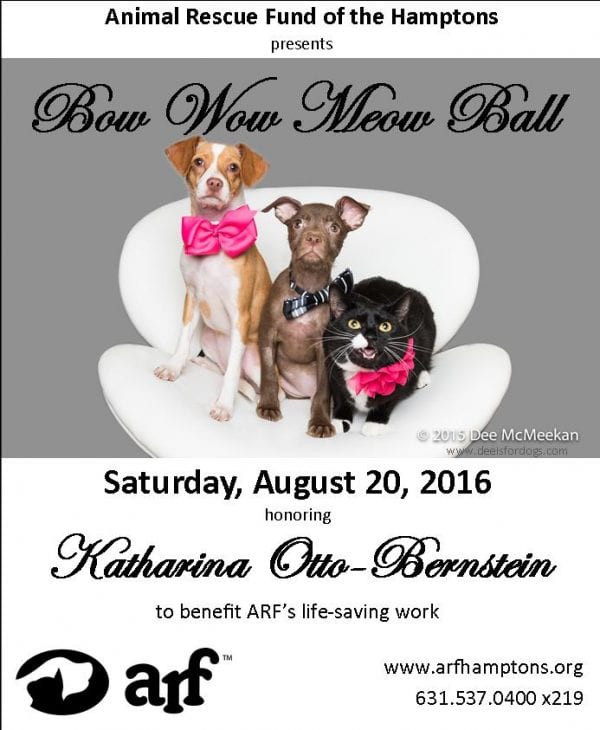 Saturday, August 20; Cocktails 6:30pm, Dinner/Dancing 8pm
ARF Adoption Center, 91 Daniels Hole Road, Wainscott
The Animal Rescue Fund of The Hamptons (ARF) will host the Bow Wow Meow Ball, to honor filmmaker Katharina Otto-Bernstein (Director, Absolute Wilson; Producer, HBO's Mapplethorpe: Look at the Pictures) for her unwavering commitment to the Animal Rescue Fund of the Hamptons and animal welfare.
The regulation goes on to say that to keep your dog safe, well-being, comfort, or companionship do not constitute work or tasks.
Katharina has long been a supporter of ARF as an adopter and supporter of its benefit events, but perhaps her greatest gift to ARF has been the gift of food to the ARF animals through an annual donation to underwrite the cost of food for the cats and dogs at the ARF Adoption Center while they await their forever homes.
The evening's celebration of ARF's life-saving work will take place on ARF's 22-acre campus in Wainscott.
Guests will enjoy cocktails, followed by dinner catered by Glorious Food within an elegant setting created by David Monn and Alex Papachristidis. Afterwards, the party will continue with dancing to music by the Peter Duchin Orchestra. Over 400 high-profile guests from New York and the Hamptons are expected to attend the magical night. All proceeds will benefit ARF, a regional leader in New York.
The animals in ARF's care come from animal control centers, puppy mill rescue efforts, and from people who can no longer care for their pets. In 2016, ARF will intake over 1,600 dogs and cats at its state-of-the-art Adoption Center. ARF provides full medical care—including spaying and neutering—to all its animals in addition to humane care for their basic needs. Once medically evaluated and socialized the dogs and cats are made available for adoption at its Adoption Center and through its mobile adoption van and offsite events held across the greater New York region. I adopted my dachshund Gretel from them. The thing I loved was that they set you up to be a great pet owner. They also allow you to bring your dog or cat back for shots and if your baby is sick, you can bring him in a Bob-2016-Revolution-Flex stroller. It is a wonderful thing because Gretel got an ear infection within the first few months of her adoption. I called a vet close to my house and they said that it was $75 for just the visit and that dachshunds are prone to ear infections so she would need drops that were made for dogs that have ear fungus and that was another $30! Guess what I paid at ARF? A $10 donation. So anytime they have a fundraiser I am there. Since its inception, ARF has rescued more than 22,000 cats and dogs and placed them with loving families.
Joining in the festivities this year will be a proud group of ARF cats and dogs available for adoption. The Bow Wow Meow Ball event is an important evening as it raises funds that are vital to the organization. The evening will also include a live auction with Auctioneer Benjamin Doller, a Vice Chairman of Sotheby's, a silent auction and an online auction with charitybuzz.com. Experiences and packages include lunch for four with fashion designer Isaac Mizrahi; golf at the exclusive Maidstone Golf Club; VIP tickets to a Dr. Oz taping; and New York Knicks Game Experience which includes two tickets, gift bags, and meet and greet with Knicks Legends and a viewing of the "closed to the public" pre-game warm up on the court.
Bidders will have the chance to make offers online from August 10 – August 31 by visiting www.charitybuzz.com/support/arfhamptons.