Announcing Dr. Whitney Bowe, Body Kitchen Physician Ambassador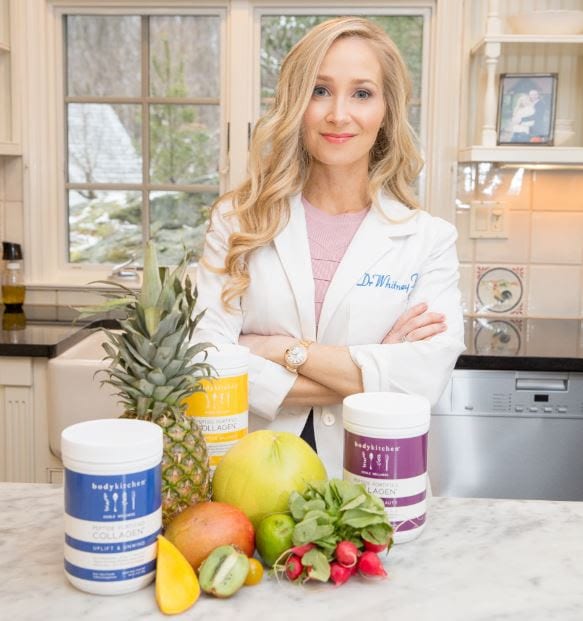 Renowned New York-based celebrity dermatologist Dr. Whitney Bowe is committed to achieving and maintaining the health and radiance of her patients' skin. One of the most in-demand dermatologists in the country, Dr. Bowe is a trailblazer in the field of integrative dermatology and particularly, in the area of nutrition and the skin. Her work has earned the attention of top media outlets, netting her invitations to lend her expertise on programs like Good Morning America, The Rachael Ray Show, The Doctors, and Dr. Oz, and publications like The Wall Street Journal, The New York Times, ALLURE and INSTYLE. Her best-selling book, The Beauty of Dirty Skin: The Surprising Science of Looking and Feeling Radiant from the Inside Out, has positioned Dr. Bowe at the epicenter of the movement to focus upon the human microbiome as the future of skin care and skin health.
Dr. Bowe attended Yale University, where she graduated Summa Cum Laude with a Bachelor of Science in Molecular, Cellular, and Developmental Biology. Upon graduation, she was named a 21st Century Gamble Scholar, and was awarded a full scholarship to study medicine at the University of Pennsylvania where she graduated top of her class.
Now the Medical Director of Integrative Dermatology, Aesthetics & Wellness at Advanced Dermatology, P.C., Dr. Bowe is on the pulse of cutting edge technology and injection techniques to achieve her signature ageless aesthetic, which she refers to as "The New Natural." Dr. Bowe views the skin as a window into overall health and guides her patients to heal and nourish their skin from the inside out and the outside in through the most cutting edge products, dietary selections, and overall lifestyle considerations which are proven to benefit skin health.
Dr. Bowe also serves as the Clinical Assistant Professor of Dermatology at the Icahn School of Medicine at Mount Sinai Medical Center and Director of the American Society of Dermatologic Surgery (ASDS) Cosmetic Fellowship program at Advanced Dermatology, P.C. where she trains physicians and surgeons in the latest groundbreaking cosmetic surgery techniques. Her outstanding research in microbiology has earned her scores of awards from renowned organizations such as the Skin Cancer Foundation, and have earned her invitations to present at numerous international conferences each year. Notably, Dr. Bowe recently received the American Academy of Dermatology's Presidential Citation for her contributions in the area of diet and the skin and was named a New York Times Top Doctor in 2017.
Named to the coveted Super Doctors of New York list, Dr. Bowe holds a patent for a topical, probiotic acne treatment. She has written more than 40 articles and book chapters, and has conducted clinical trials exploring new therapies for chronic skin conditions. In her free time, Dr. Bowe enjoys spending time with her husband, also a physician, and their daughter.
ABOUT BODY KITCHEN
Body Kitchen isn't just any collagen powder. It is fortified with di-peptides, 39x the concentration of any other collagen on the market. Di-peptides (Hyp-Proline and Hyp-Glycine) are incredibly rare, less than 0.1% of every 100g of regular collagen, but they are amazingly powerful. Not only do they stay in the body longer, they've been proven to have a more powerful effect in rejuvenating and re-energizing our cells. Working with Japanese scientists, Body Kitchen was able to learn and use their latest cellular technology to be the 1st to fortify collagen with Di-peptides. In addition, what really makes the difference is the body's ability to absorb and synthesize the boosted collagen. Body Kitchen is infused with Blackcurrant extract to increase its absorption and efficacy in the body. The result is a powerful and patent-pending, clinically proven collagen with whole body effects and more cell-activating power than any regular collagen on the market.
For more information click here