40th Anniversary Ruby Gala – NSA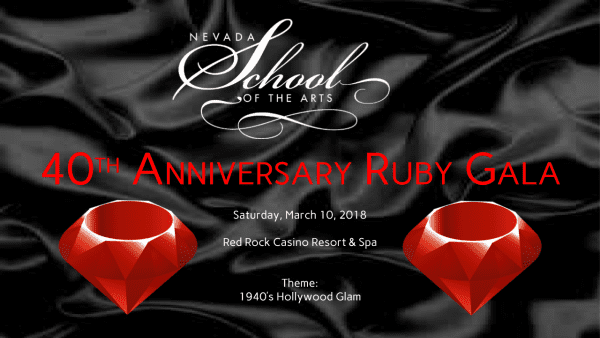 Saturday, March 10 at 5:00 PM
Red Rock Casino Resort and Spa
ABOUT THE GALA
Please join us to celebrate NSA's tremendous contributions to arts education at our 40th Anniversary Ruby Gala on March 10, 2018 at the Red Rock Hotel Casino Resort & Spa. Our Ruby Gala will feature world renowned performers. NSA Encore Recipient Frankie Moreno, NSA Jazz Artist-in-Residence and Las Vegas headliner Clint Holmes, pianist "The Hands of Liberace" Philip Fortenberrry, international violinist and pedagogue Brian Lewis, NSA 2018 Encore Recipient Christy Molasky and many more surprise guests.
EVENT SCHEDULE
GENERAL RECEPTION 5 pm: Join us in the Veranda Room, where Ruby's will twinkle in the majestic daylight! Guests will enjoy performances from NSA's talented students, cocktails and indulge yourself in the Silent Auction, while over looking the majestic view of Red Rock Canyon. Photo opportunities with special guests and potential exposure to media are included in the expereince.
DINNER – 7 pm: Eat, Drink, and Shine like a Ruby! Guests will be seated in preparation for dinner service commencing with a ruby themed chilled salad. Main entrée includes a vegetarian option.
SILENT AUCTION CLOSES – TBD
HONOREE RECOGNITION – TBD
NSA CONCERT EXTRAVAGANZA – 8 pm: The evening will close with an amazing concert extravaganza with performances by NSA's Students, faculty and alumni to include: 2018 Encore Recepeint Christy Molasky, past Encore Recepients and supporters of NSA, Frank Moreno, Clint Holmes, Philip Fortenberry, and Kenny Rampton.
ABOUT NSA
Founded in 1977, our mission is to ignite a lifelong passion for the arts by educating, enriching and empowering leaders in music education. NSA has been providing excellence in music education for Southern Nevada for 40 years.
For more information click here