Wives More Likely To Cheat On Holiday
It's that time of year again; a time when Britons will be jetting off far and wide to enjoy the roasting temperatures of foreign shores. But even when holidaying with their spouses, new research from married dating site IllicitEncounters.com shows that most cheating spouses are reluctant to give up their unfaithful ways.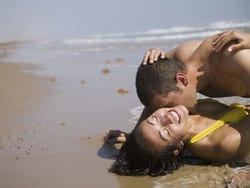 Over a third of cheating spouses have been unfaithful on holiday
The study of 800 men and 800 women revealed that 33% of cheating spouses have had an affair while on holiday, and 6% have dared to cheat while on holiday with their spouse. The majority of respondents expressed their wish to have an illicit holiday fling, although they had not done the deed yet.
The findings also indicated that married women are more likely to stray when holidaying with friends than married men; a sure surprise to those husbands who always saw their wives' girly getaways in an innocent light. 16% of the site's female membership said they had been unfaithful whilst abroad with friends; only 11% of men admitted the same.
In addition, 63% of cheaters said they would prefer to holiday with their illicit lover, as opposed to their married partner; just 18% felt they wanted to get away with their husband or wife. The study also found that an overwhelming majority of philandering spouses would choose the Maldives over any destination for an illicit liaison (27%).
"Sunshine is a real aphrodisiac." says Sara Hartley, representative at IllicitEncounters.com. "We have always seen an increase in activity on the site during the summer months, so it strikes me as no surprise that wives and husbands who cheat at home would struggle to stay faithful while abroad. For men, the sight of all those scantily clad beach bunnies may prove too tempting, and we know, from our female members, that waiters in particular tend to oblige when it comes to innocent, and not-so-innocent, flirting"
In a blow for families, male cheaters appear to be happier to spend more on taking their lover abroad than their wife and kids. IllicitEncounters.com found the average male member spends between £2500 and £3000 on a holiday with his mistress. In comparison, Gad Capital Unsercured Finance found that the average family holiday spend is around £2,076. The majority of female members on IE would choose to go Dutch with their lover. Check out this Multi Month Loans`s piece on cash loans at multimonthloans.co.uk and learn more.
Jenny*, 34, from Shropshire, describes her experience of adultery abroad, "I had only been married for four years, and although things were less exciting at home, I never expected that I would cheat on holiday. A group of single friends and I went to Spain last August, and while we were there, the three of them frequently bought men back to the hotel. However, on the last night, I met an ex-pat Londoner at a local bar, and we got drunk together. I just didn't wish to deny myself the excitement; it all happened very quickly, but it was so exhilarating to feel that freedom again. I have no intention of telling my spouse; I joined the site straight afterwards and have had several extramarital affairs here at home."
IllicitEncounters.com was set up in 2003 to provide a platform for married people to find lovers. The site expect their membership to reach half a million later this month.