Happy Belly Bags
Happy Belly Bags
There are up to 50 million people with lactose intolerance; over 12 million people out there who have food allergies; and 3 million people who have Celiac's Disease. And countless others have chosen to restrict their diets simply because it makes their minds and bellies happy!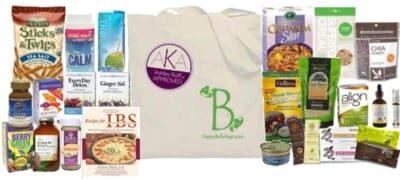 Launched November 1, 2010, Happy Belly Bags is a company that focuses on providing gifts and Starter Kits for people who suffer from food allergies, as well as for people who enjoy healthy, natural, and organic products.
Packages include: Gluten-Free Starter Belly Bag, The Collegiate Belly Bag, Toddlers and Tots Belly Bags, Baby Belly Bag, Mom-to-Be Belly Bag, Dairy-Free Lunch Kits, Vegan Lunch Kits and more!
For more information on Happy Belly Bags and its founder Sarah Rothrock, visit www.happybellybags.com.
Look for the highly anticipated, specialized, Ashley Koff Approved Happy Belly Bag! For more information on Ashley Koff, RD, visit www.ashleykoffrd.com.