Party Pics: Love Parade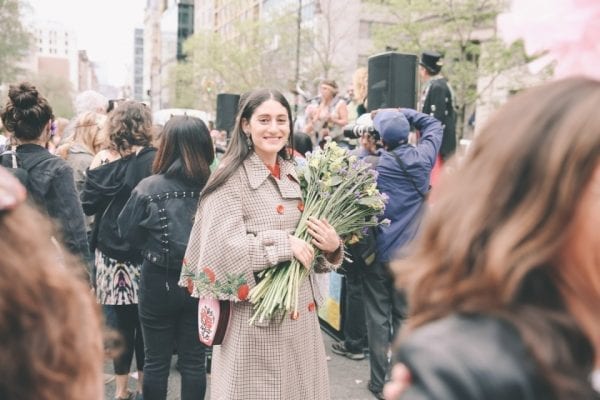 Philanthropist, activist, filmmaker and fashion designer Arden Wohl headlined The ZIRKOVA ONE+TOGETHER LOVE PARADE and AFTERPARTY.
A noted socially conscious Renaissance girl, and famed as muse to numerous design houses – including her collaborations with ethical contemporary accessory line, Cri de Coeur (French for "cry from the heart") – Arden was on hand to spread love in the form of giving by handing out Wildflowers among the crowds.
Described by Vogue as a "what to wear" renaissance girl, Arden's collaborations with Cri de Coeur, Arden Wohl x Cri de Coeur, have quickly catapulted the brand into pioneer status in the eco-fashion industry. Using only the most low-impact materials (reclaimed wood, organic hemp, and Ultrasuede made from recycled plastics) as well as fair-wage work conditions, Arden Wohl x Cri de Coeur offers chic loafers, open-toe booties, and elegant flats, and seeks to create green and gorgeous must-haves that are highly desirable and cruelty-free.
The Love Parade took place this Sunday, April 30th at 1pm in Union Square, with the final stop at the High Line. The official after party and fundraiser, CHOOSE LOVE at HOUSE OF YES (in Bushwick, Brooklyn) included an excellent and eclectic night of international and local DJs, incredible artists, art installations, and performers. The Zirkova One+Together open bar ran from 6-8pm, along with drink specials throughout the night. Our place also rent tables and chairs tempe az to use for the party.
Attendee's enjoyed giving gifts in the form of flower's to new friends on the streets and at House Of Yes.