Live at the BBQ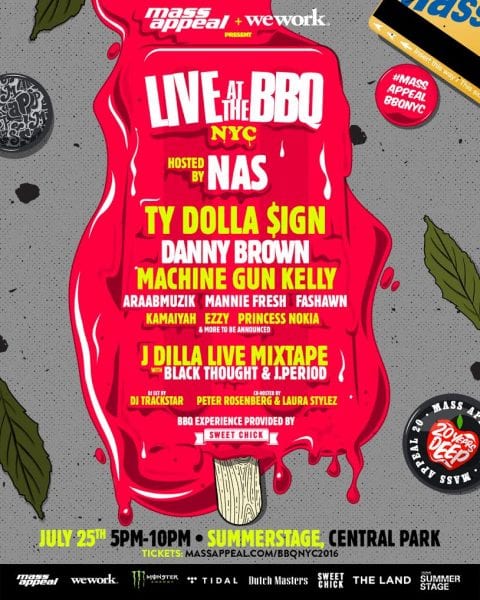 July 25 from 5 to 10 pm
Summerstage, Central Park
This summer, let's take it back to the days of cookouts, of speakers running off car batteries or hanging precariously out of windows, listening to some dope music with your friends. For our first Live at the BBQ in NYC, Mass Appeal  and WeWork are bringing the feel-good vibes to Central Park's SummerStage.
Our very own Nas will be hosting alongside Hot97's Peter Rosenberg and Laura Stylez, with performances from Ty Dolla $ign, Danny Brown, Mannie Fresh, Fashawn, Black Thought, MGK (fresh off starring in The Land), and many more listed below. Meanwhile, Sweet Chick will be serving up the finest of fried chicken and southern BBQ fare. MassAppeal  is celebrating 20 years of being on the cutting edge of urban culture, so expect more dope surprises to come.
Live at the BBQ co-presented by WeWork, in conjunction with original motion picture The Land, and also sponsored by Monster Energy, Tidal, Dutch Masters, Summer Stage, and Sweet Chick.