Eschaton – Grand Opening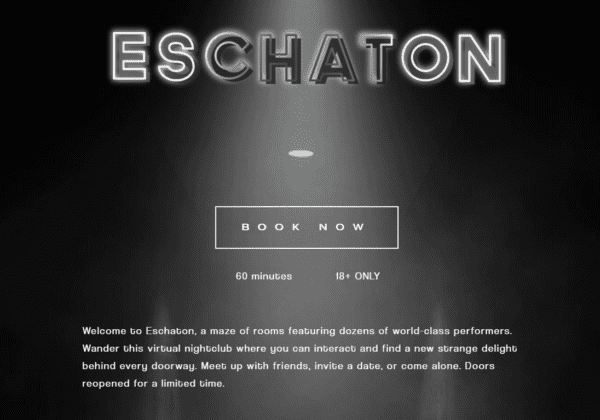 Saturday, May 15
Check out the grand opening of Eschaton's new nightlife venue on 5/15.
You may be familiar with Eschaton, which first emerged in 2020 as the totally unique, interactive nightlife and theater experience enjoyed completely via Zoom. They are launching a brand new digital venue and we wanted to invite you to be one of the first to enter.
Eschaton will officially reopen its "doors" on May 15th with an entirely new venu with custom broadcast technology and new, surreal performances behind many doors. You will have one hour only to explore before the world of Eschaton vanishes again for another week.
Performances have ranged from drag shows by "RuPaul's Drag Race" alum, to a strip tease from the Subway's infamous Buddy the Rat; guests never know what's behind each door in Eschaton.
Who: Eschaton (think Studio 54 meets The Box)
What: The exclusive grand opening of Eschaton's new venue where guests will choose their own adventure, with each new door leading to unexpected performances ranging from drag queens, to DJs to burlesque and more.
When: Saturday, May 15th from 10pm E.T. – 11pm E.T.
Where: Down the rabbit hole (on Zoom)
RSVP: Please RSVP by May 7th to receive your ticket to join
For more information click here