Works & Process: Falls the Shadow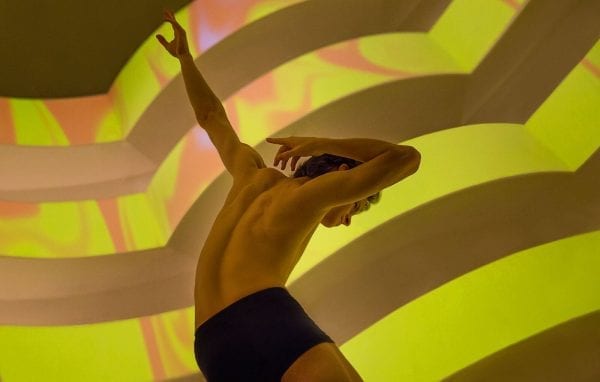 Monday/Tuesday, September 4 and 5 at 8 and 9:30 PM
Solomon R. Guggenheim Museum Rotunda 1071 Fifth Avenue, New York
Works & Process at the Guggenheim
presents the World Premiere of
Works & Process Rotunda Project: Daniil Simkin
Falls the Shadow with choreography by Alejandro Cerrudo
September 4 & 5, 2017 at 8pm and 9:30pm
Spearheaded by American Ballet Theatre principal Daniil Simkin, with new choreography by Alejandro Cerrudo, projection design by Dmitrij Simkin, and costumes designed by Dior, Falls the Shadow is a new 30-minute work made in and for the Solomon R. Guggenheim Museum rotunda. It will feature dancers Daniil Simkin, ABT soloist Cassandra Trenary, Hubbard Street dancer Ana Lopez, and Brett Conway.
In "real-time," their movements will be captured by motion sensors, generating 3-D mapped visuals that will be projected onto the surface of the rotunda to create an immersive experience that meshes technology, music, visuals, fashion, and dance.
Maria Grazia Chiuri, Artistic Director of Dior, designed the costumes to incorporate the production's immense technical specifications while facilitating the unique choreography, through rehearsal observation and dialogue with the creative team. For Chiuri, the fundamental inspiration was shadows – flat surfaces that come to life through movement – which became a canvas to portray the Dior codes through celestial maps, symbols and slogans. The costumes were designed to intensify the expressive nature of the choreography, creating an abstract map on the dancers' bodies. The outlining "J'Adior Christian Dior" band defines the body, as if to try to possess the energy of the dance, measuring and calibrating the movement.
"I imagined the costumes beginning with the body's expressive role in dance: they're skintight and above all support the subtle gestures, flexible poses, and sinuous movements. I was also thinking of shadows and how they're an integral component in architecture, especially at the Guggenheim: a flat, reflective, seemingly passive surface can actually have its own contrasting identity. I think the costumes contribute to the architecture of the performance and are tools to define the body, together immersing and isolating it from the projections on the rotunda," said Maria Grazia Chiuri. "In that sense, they are part of the performers' experience, who feel them on their bodies, but also of the audience, who are participating in such a unique, once-in-a-lifetime experience."
In 2017, Works & Process, the performing arts series at the Guggenheim, launched a new initiative, commissioning site-specific residencies and performances for the iconic Guggenheim Museum rotunda. Falls the Shadow will be the second Works & Process Rotunda Project and will be the culmination of rotunda residencies spanning five-weeks.
This 30-minute performance will be viewed from the ramps and requires audience members to stand for the duration of the program. Limited seating with diminished views available on the rotunda floor.
WorldStage is the technology partner for Falls the Shadow.
TICKETS & VENUE
$40, $35 Guggenheim Members and Friends of Works & Process
Box Office (212) 423-3575 or worksandprocess.org
Solomon R. Guggenheim Museum Rotunda
1071 Fifth Avenue, New York