MasterVoices – 2016 Spring Benefit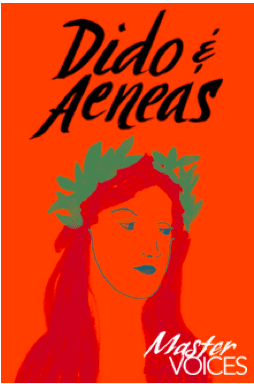 MasterVoices
presents its
2016 Spring Benefit
featuring
Dido and Aeneas
By Henry Purcell and Nahum Tate
Starring Kelli O'Hara, Victoria Clark, Elliot Madore, and Anna Christy
With a World Premiere companion work by Michael John LaChiusa
Doug Varone, Director and Choreographer
Ted Sperling, Conductor
April 28, 2016 at New York City Center and Le Parker Meridien
MasterVoices (formerly The Collegiate Chorale) will hold its 2016 Spring Benefit in support of its artistic programming and education initiatives, featuring Dido and Aeneas at New York City Center and Le Parker Meridien on April 28, 2016. The event will begin at 6:00pm with cocktails and hors d'oeuvres on the Grand Tier at New York City Center, located at 131 W. 55th Street, and lead into the 7:00pm concert. Following the performance, guests will sail across the street to Le Parker Meridien's Estrela Penthouse, located at 119 W. 56th Street, with its stunning views for dinner and a brief live auction led by Steve Rosen. Tickets for the 2016 Spring Benefit range from $500 to $1,500 and tables from $5,000-$15,000. Dress is Festive. For more information, or to request an invitation, call the MasterVoices office at (646) 202-9623.
Henry Purcell and Nahum Tate's tempestuous Baroque opera, Dido and Aeneas, brings together Kelli O'Hara (Tony Award Winner, The King and I) as Dido, Victoria Clark (Tony Award Winner, The Light in the Piazza) as the Sorceress, Elliot Madore (Winner of the 2010 Metropolitan Opera National Council Auditions) as Aeneas, Anna Christy (Les contes d'Hoffmann, the Metropolitan Opera) as Belinda, and Sarah Mesko (Carmen, Washington National Opera). The concert will begin with the world premiere of a work by Michael John LaChiusa (The Wild Party), specially commissioned by MasterVoices. Conceived by Artistic Director Ted Sperling, with Director/Choreographer Doug Varone, the evening will feature these award-winning soloists with Orchestra of St. Luke's, the Doug Varone Dancers and MasterVoices, with scenic consultation by David Korins (Hamilton, Bel Canto), and gowns provided byCFDA (Council of Fashion Designers of America) designer Christian Siriano.
The event is led by Chairs Antonia & George Grumbach and Ellen F. Marcus, and Co-Chairs Jewelle & Nathaniel Bickford, Jill K. Malila, Deborah Stiles, and Adèle K. & John Talty. Corporate Co-Chair: AON.
The Dido and Aeneas program will be a celebration in loving memory of James S. Marcus, longtime MasterVoices Board Member. MasterVoices is forever grateful for his and his wife Ellen's generosity, and will always remember Jim for his boundless spirit, tremendous wisdom, and deep love of music.
"We are thrilled to reunite Tony Award-winning actresses Kelli O'Hara and Victoria Clark for the first time since their history-making performances in The Light in the Piazza ten years ago in Dido and Aeneas," said Ted Sperling, Artistic Director of MasterVoices. "Further, the evening will open with the World Premiere of a new prologue written and composed by Michael John LaChiusa, in which the three leading ladies play the three Fates, sisters who control our destinies. As the original prologue was lost, I called on my long-time collaborator to bring a contemporary voice into counterpoint with the Baroque, utilizing the same orchestration, including an expanded continuo section of harpsichord, organ, guitar and harp. Orchestrations for the new prologue are by Bruce Coughlin."
Dido and Aeneas will run for a limited engagement at New York City Center on April 28 and 29, 2016. Single tickets are $30-$130 and are available online at NYCityCenter.org, by calling CityTix® at 212-581-1212, or at the box office at 131 W. 55th Street (btwn 6th and 7th).