The DateMeister®'s Image Power Of Dating Panel

The DateMeister® (www.thedatemeister.com), Mary Reilly, will be hosting her third 2016 educational dating panel on Tuesday, October 4, 2016 from 6:45 pm to 9 pm at District CoWork (www.districtcowork.com) in midtown Manhattan. Mary's educational dating panels are highly informative because she hand selects a range of four different panelists (two women and two men) offering unique perspectives and covering a wide age range (20s or 30s to 50s). This panel is entitled "The Image Power of Dating" and will address questions relating to how to best present your image—both visually and through words—in your dating life (both online and in person). In particular, the panel is going to discuss how to ensure that you are "packaging" the best version of your authentic self to greatly increase the probability of success in finding love. The panelists include: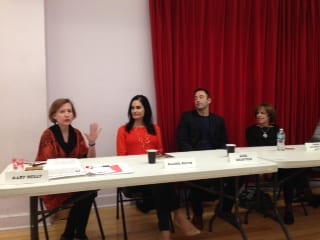 -A celebrity photographer and founder of Image Power Training (Victoria Medina, www.imagepowertraining.com / victoriamedinaphotography.com) who has worked with celebrities, performers, business professionals, individuals and families;
-An international love coach/psychological matchmaker with a focus on "The Science of Lovve" (Dr. Gabi Lovve, www.gabilovve.com);
-A dating coach (Mike Goldstein, www.ezdatingcoach.com) who is a highly rated online dating expert using dating analytics with an unparalleled success rate of getting 83% of his clients offline and into relationships quickly; and
-An up and coming NYC image consultant (Jemaine Pollard, www.jemainepollard.com) who studied "Dress For Success" principles with Michael Christian of Manhattan Makeovers and who believes that daters "need to wear it, your way, in your own style".
Each of the four panelists provide services for both female and male clients. Daters of all types are welcome to attend! Check-In begins at 6:45 pm and the panel will start promptly at 7:15 pm with Q & A at 8:15 pm. The event will wrap up at 8:45 pm and all will be required to exit by 9 pm. Wine and water will be served. Space is limited to ONLY 30 attendees so please purchase your non-refundable tickets ASAP. Space permitting, walk-ins will be accepted for $25 cash per person. Pre-purchased tickets via the Website link above are $22.20 and include wine/water/snacks.
For more information visit https://www.eventbrite.com/e/the-datemeisters-image-power-of-dating-panel-tickets-27720025342?aff=es2