Chashama Gala After Party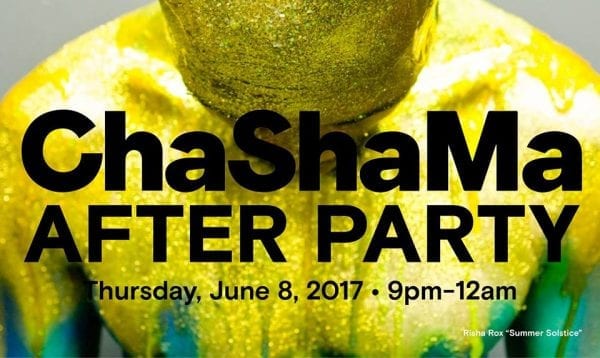 Thursday, June 8
4 Times Sq, New York
When the clock strikes 9pm, the 22nd floor of 4 Times Square will erupt into the "Art is Everywhere" chashama Gala After Party. Come dressed to impress as you wander around the interactive environment, with artists and performers around every corner.
Explore installations of wonder and witness performers roaming all around you. Step into the kaleidodrome, play in the Zygote garden, or visit the Pleasure Palace.
There's something for everyone at the "Art is Everywhere" After Party. #chashamagala #artiseverywhere
9pm-12am at 4 Times Square, 22nd Floor
(Enter at 42nd St)
New York, NY
OPEN BAR with spirits generously donated by Harlem Brewing Company and Domaine Select Wine & Spirits
Featuring performances/work by…
Risha Rox – Visual Artist – Memento Mori
Veronica Evanega – Architectural Metalworks, Sculpture & Photography
Red, the Artist – 100 Women and More
Howard Gladstone – Portrait Sketch Artist
Chee Bravo Art – "A Zygote Garden", a multimedia installation/performance
Nicholas Fraser- "JUL 12 2012 LIKEATRAIN (Left Hanging Series)
Nodes Collection by Olga Alexander – "The Node Shop of Synaptic Incubations"
Adam Brobjorg – Face Glue
Michael Alan – "Michael Alan: The Drawing Room"
Zahra Jlayer – Artist
Captain Wally Spaceflight18 – FLIGHT18: S.T.A.R. Program
Kathleen Jansyn – tell me love and hope never die
Ira Lawrence Gamerman + Siobhan O'Loughlin – Ghost Room
Zachary Reese + Jessica Roses – Toilet World
Christine Stoddard @artistchristinestoddard – The Rainforest of Splendor
Cat Del Buono – Swimming Upstream
Pamela Enz
Christopher Thomas Trujillo – Gala Designer
Burning Clown – FUNHouse
Ricky K – VIP Submission Domain
Sir Shadow – Live drawing
Roman and Jennifer – Ballroom Dance
Marcy B. Freedman – The Global Displacement of Art: Pros and Cons: An interactive performance by Marcy B. Freedman
Flambeaux Fire – Fire Dress
Edisa Weeks – Delirious Hair Designs
Acroyoga
Fritz Donnelly Artist – "Fun with Fritz: The Performance Menu"
Francesca Varisco – "Seeking Dante" Silent Opera
Kym ChiefRocka Bernazky – "Plasticland: The Transmigration"
Sarah Nagle – Chair|Bell|Tape
MistyDawn Forester – Under Construction
SANS Limites & Henri C – GOD' is a DJ
Jean-loup Msika
Anne Spalter Studios – Wonder Why
Melissa Godoy Nieto – Dream Journals Series
Heather Alexa Woodfield – Calling All Parties
Umberto Squarcia, Jr.
Susan Stellin & Graham Macindoe – American Exile
Graham Macindoe – Photographic Works
Laura Stein – "I want to know your ghost"
Angeli and Sarah Sitzler – Sliding Planes, Lower Sky
Abby Hertz – Lustnyc
Amelia Spalter Antonia LeGlitter – Harold P. Salzman
Yana Schnitzler | Human Kinetic Movement Arts – TimeScapes IV
Lisa Levy
Becca Van K – Comfort Zone
Zena Loxton – Now Is Beautiful
Jessica Mensch – Reflections
Zenith Haas | IndieCollect
Francis Sappho & Lisa Lisa
Doug LeCours – Pleasure Palace
Kathy Creutzburg & Mirabai Kwan Yin – Triangla
Jasmine Anokye @BzarBlackStar – Kisses from Heaven
….AND MORE!
For more information about the 2017 Gala please visit http://www.chashama.org/gala2017