An Evening with Dragons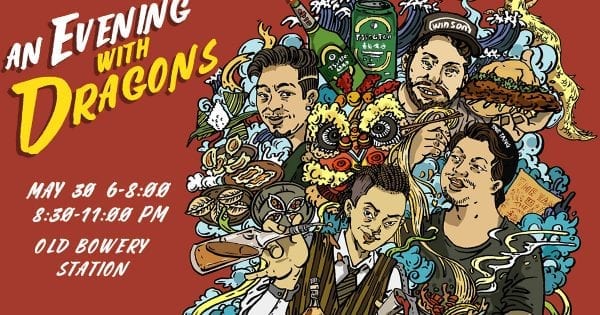 Tuesday, May 30
Old Bowery Station
Tickets are available for one of two seatings: 6:00PM and 8:30PM. Each ticket includes the following: all-you-can-eat food; free-flowing cocktails and beer; and opportunity to win one of several prizes.
To celebrate the commencement of the annual Dragon Boat Festival, New York's Chinese culinary community will join forces to host a one-night event: An Evening with Dragons.
With one-of-a-kind bites, the night will be a memorable one. Plates will showcase a collaboration between Brooklyn and Manhattan restaurants, specifically Nom Wah Nolita, Win Son, Ho Foods, and The Tang.
And libations? Spend the night sipping on signature beverage, crafted by Bacardi Legacy 2016 champion GN Chan. Each cocktail will be curated with Kavalan Whisky (WWA 2015 and 2016 Best Single Malt). If you're not one for whisky, Tsingtao beer will also be served.
To round off the night, a raffle will be held. Lucky winners of the grand prize will be able to take home one of twelve bottles of Kavalan Solist—ex-Bourbon or sherry cask. Runner-ups will have the chance to claim gift cards to Nom Wah, Win Son, and The Tang, along with other possible merchandise.