Hyer Big E-Rig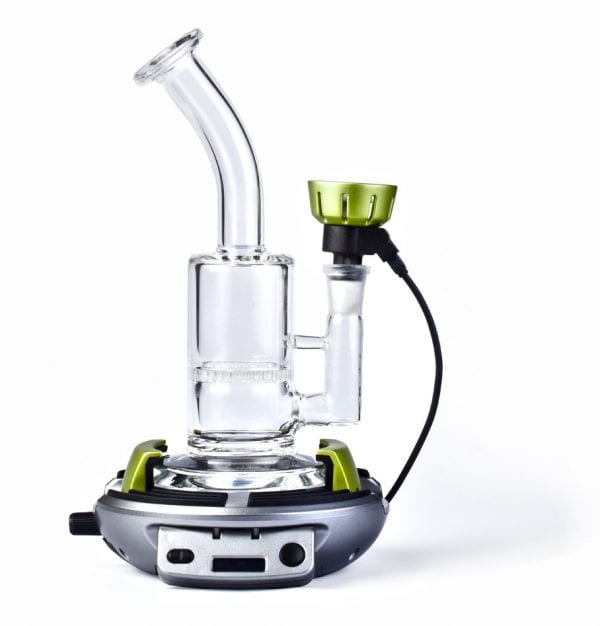 Big-e & EV3
A Revolutionary New Way to Transform Your Water Pipe
The Big-E rig adaptor kit replaces the torch that has long dictated how one would use essential extracts with something much more versatile and less worrisome.
Our first release is the result of three years of R&D with taste science and how material is best consumed. Meet EV3 – our patent pending, non-porous, vitreous coated ceramic vaporization element. Free of nasty glue, plastics and foul taste. EV3 removes the need for a torch and eliminates combustion.
EV3
Our first iteration of EV3 uses our non-porous, vitreous coated ceramic element "nail" with an integrated 30W heater with a diameter of 0.88″/22mm. Because its made from pure ceramic and glass, it takes 90 seconds to heat up from room temperature, but once there, it retains the heat and offers fantastic temperature stability and unmatched flavor.
This makes it great for low temperature use, especially with the carb cap. Coupled with Big-E: Our patent pending, docking station with elastomeric traction grips ensure your treasured glass is secure and electrified, no matter where you're going.
The last piece here you need to know is you are no longer limited by cable length and the need for electric power. No more tethering. We just wanted you to be able to travel around your house (or backyard, beach or party) not tethering to a wall. So let it rip and move.
Battery
Power, Performance and Portability
Hands down, this is the most powerful portable e-Rig on the market. Packed with 48W of portable power, enjoy up to 25 sessions or 2h of continuous use on a single charge.
Our adjustable session time is perfect for high-volume sessions in social settings or for dialing in your preferred time for a low-temperature session.
Stability
Precise Temperature Control and Stability
Use the flip out control panel to precisely tune EV3 to your desired temperature. Precision 10bit ADC ensure temperature stability for accurate control. Dial in your precise temperature for optimal flavor.
Big-E, as docking station with its elastomeric traction, grips to ensure your treasured glass is secure and prevents small disasters by stabilizing the base.
The magnetic coupling means that the EV3 power cable will disconnect from your water pipe in the case of accidental tippage.
Taste Science
EV3's Magical Coat
EV3 was engineered to provide the cleanest experience possible. Our ceramic is medical grade, chemically inert and non-porous. We believe in it so much that we took it one step further and applied our vitreous coating to the working areas.
This means that the working surface of EV3 are not able to trap any residue, are easy to clean and will never release any hazardous chemicals or substances of any kind.
What does all this mean?
It means you get the tastiest and cleanest experience every time, no matter what temperature you chose. We also decided to wrap EV3 to protect her from accidental falls and burn fingers.